GREEK MUSIC JOURNEY 2018 CONTINUES....

GREEK LEADING SINGER BABIS TSERTOS
And his band in a memorable concert tribute with Rembetika and Laika

From Tsitsanis to Theodorakis

BUY TICKETS ONLINE OR CHARGE BY PHONE 718-545-1151
WATCH BABIS TSERTOS CONCERT PROMO VIDEO
ABOUT THE CONCERT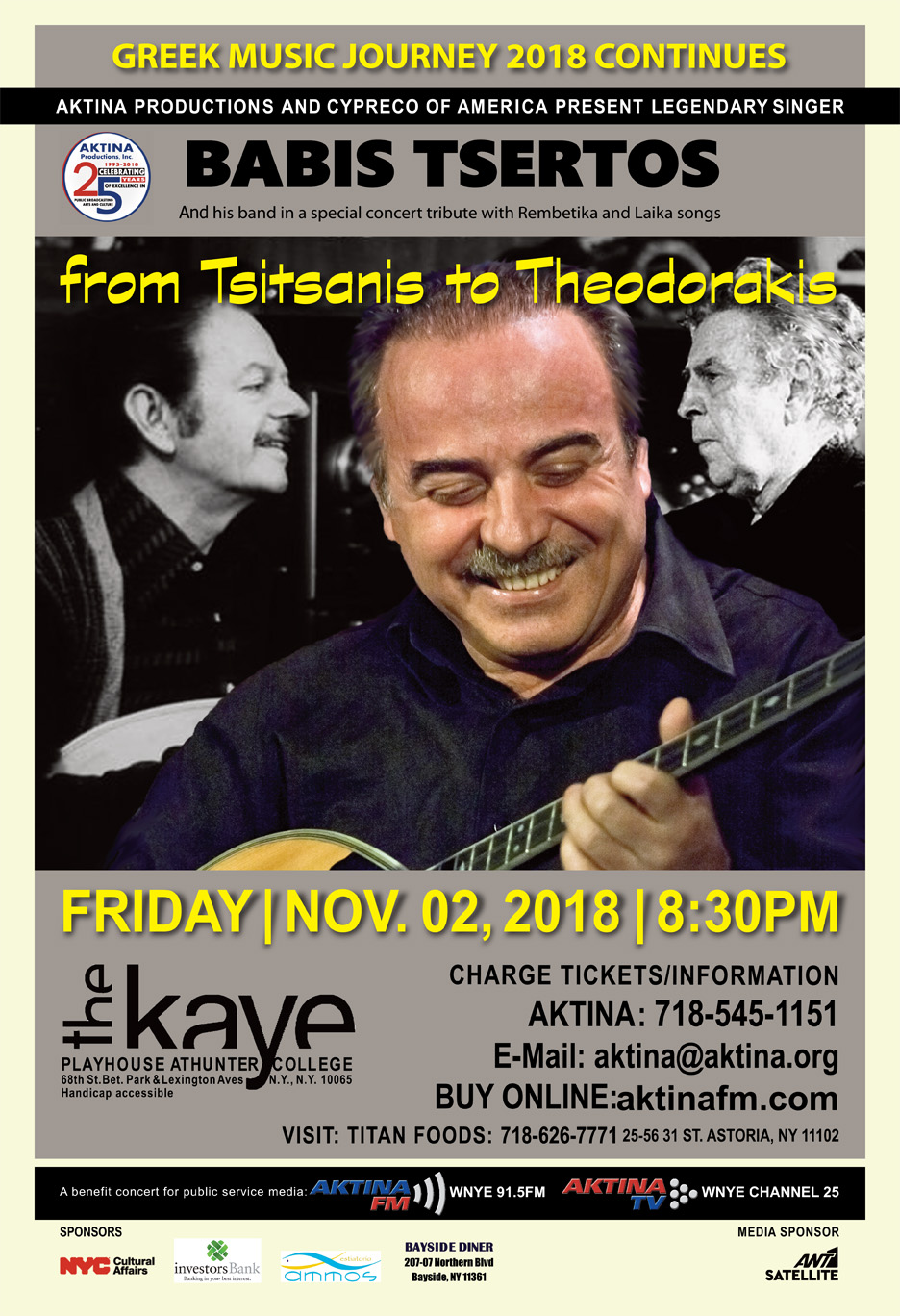 Greek leading singer Babis Tsertos, who captivated AKTINA's and CYPRECO's concert fans in Greek Music Journey 2016, during a sold out performance dedicated to the "Great Rembetika of Greece", returns to New York with his band for a new memorable performance entitled, "From Tsitsanis to Theodorakis" highlighting the everlasting rembetika (Greek blues) of legendary songwriter/composer Vasilis Tsitsanis and Laika (popular folk) of world renowned composer Mikis Theodorakis (Zorba the Greek). Join us on Friday, November 2, 2018 at 8:30pm at the Kaye Playhouse at Hunter College. The concert is co-presented by AKTINA Productions, Inc., and CYPRECO of America from the acclaimed series GREEK MUSIC JOURNEY (GMJ) and it is produced by Elena Maroulleti. Watch videos of Babis Tsertos from his last sold out performance during AKTINA's Greek Music Journey 2016. Watch the Babis Tsertos new concert video promo.
The Babis Tsertos band is comprised by some of the finest and distinguished musicians and singers including the renowned and leading folk musician Kyriakos Gkouventas, violin/baglama, the bouzouki maestro Kostas Zaridakis, Sofia Mermigka (participating singer, Original Motion Picture Soundtrack "Ouzeri Tsitsanis" 2015), kanonaki/vocals, Yiannis Tsertos, piano/accordion and Kostas Tsekouras, guitar.
PURCHASE YOUR TICKETS TODAY!
Prices: $95, $70 Orchestra | $60 Balcony | $40 Rear Balcony | $65 Wheelchair.
Charge your tickets today by calling us at 718-545-1151 or purchase online right here. A handling/processing fee applies for every ticket purchase. For cash purchases please visit TITAN Foods at 25-56 31st Street, Astoria, NY 11102. All sales are final. No exchanges/refunds. Tickets will not be sold at the theater box office. For the Kaye Playhouse Seating Chart click here.


WARNING: It is strictly prohibited for any third party to reproduce, re-use or distribute any images, logos and photos posted on this website without the written concent and approval of AKTINA Productions, Inc., and of all other third parties whose photos, images or logos are featured. All rights reserved.


Read more: Greek Music Journey 2018 Babis Tsertos From Tsitsanis to Theodorakis